Introduction
This article describes how to go from a crosstab...

...to a crosstab showing Row Comparisons based on Column %: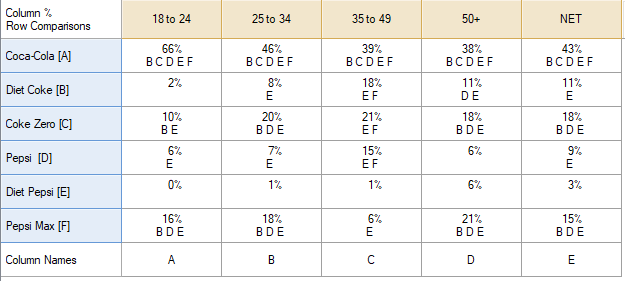 Method
1. Select your table.
2. In the toolbar go to Automate > Browse Online Library > Significance testing in Tables > Row Comparisons using Column %.
3. Set the Lowercase confidence level. By default, this is 0.1 (90%).
4. Set the Uppercase confidence level. By default, this is 0.05 (95%).
5. Press OK.
6. Select Row Comparisons in your table via right-click > Statistics - Cells.
Please note the following:
Comparisons are performed using the Chi-Square Test for Compatibility of K Counts for each pair of rows within each column of the table.
Other than design effects and weights, the specified settings under Edit > Project Options > Customize > Statistical Assumptions are not taken into account by this test. That is, it will not take into account multiple comparison corrections, specified significance levels, or any other test parameters.
NET rows are automatically excluded from the testing.
Next
How to Show Statistical Significance in Q