By default, Q saves the Q Project file in the same folder as the .sav file. If you move the .sav file, when you attempt to open the project, Q will be unable to find the file and you will get an error message like this: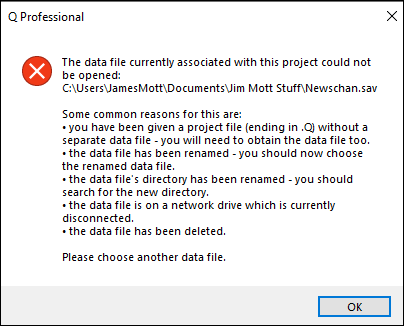 Whenever you get a message like this, you should consider one of the following alternatives:
Click File > Data Sets > Add to Project > From File and point to the currernt location of the .sav file.

Link a Q project to a specific URL address in which case Q will always read the file from the specified URL.

Save the project as a QPack instead of a Q Project. A QPack is a file that contains both the .Q and the .sav file. To save the QPack go to

File > Save As > Save as Type > Q Pack files.


These latter two alternatives may be preferable if you intend to frequently move the .sav file to other locations.
Next
How to Format an SPSS File for Use in Q