Introduction
This article describes how to merge categories in a table. Taking them from the top example below, to the bottom.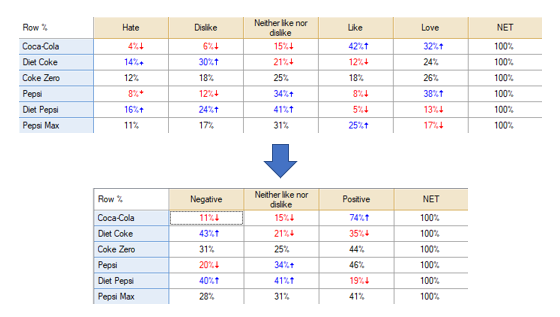 Method
Select the row or column labels you wish to combine, while holding down CTRL, and select Merge. Here we select Hate and Dislike.

Rename the category (if you want) and press OK


The results are as follows:


As an alterative, you can simply click on a category and then drag and drop it on the category you want to merge it with. In this example, we will merge Like with Love.


The results are as follows:

To rename a category, simply right-click the category and select Rename from the menu.
The final table looks like this:


Note: It is important to note that frtom now on, the question will always show the merged categories every time you use this question. Also, any tables which use this question will dynamically be updated with the merged categories.
If you want to revert to the original form of the questgion, simply right-click the question and select Revert


The results are as follows:




Again, any tables which also use this question will have the categories reverted as well.


Next
How to Merge or NET Categories on a Pick One-Multi