Introduction
Q log files contain lots of technical information that helps our programmers troubleshoot problems.
Method
Automatically obtaining log files
The easiest way to obtain your log files to us is by opening Q and clicking Help > Email Support. This will open Outlook with a pre-filled email that has the Q log file attached.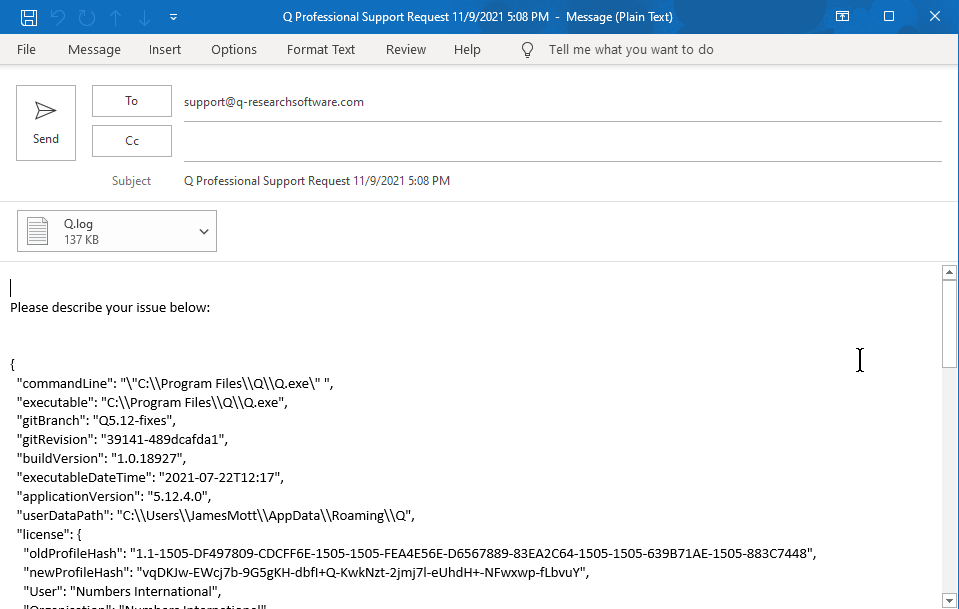 Manually obtaining log files
If you do not have an email program installed, or cannot start Q at all, you can manually locate the log file as follows:
Start Windows

File Explorer. A shortcut key for this is

Windows-key + E.
In the address bar of the

File Explorer, copy and paste the following directory exactly, and then press

Enter

on your keyboard:

%localappdata%\Q. Your screen should look a bit like the one below .
The log file is then the file that appears in your folder, called either

Q.log

or just

Q

with a file type of

LOG File

(which of these is shown will depend on the setup of your computer).
See Also
How to Contact Q Customer Support