This article describes how to go from a table showing Cell Comparisons via the default Arrows and Font Colors setting...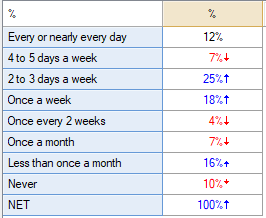 ...to a table that highlights cells based on these colored values and arrows: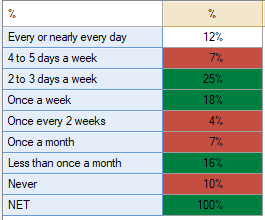 Requirements
A table with Arrows and Font Colors via Show Significance > Arrows and Font Colors
Method
1. Select your table.
2. In the toolbar go to Automate > Browse Online Library > Significance Testing in Tables > Color Significant Cells.
3. Select the appropriate colors from the Significantly high and Significantly low color pickers.
4. Press OK.
5. OPTIONAL: Change Show Significance above table to No.
Next