Introduction
This article describes how to go from a standard table...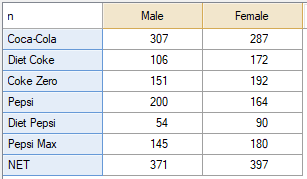 ...to a table with an additional row that sums all the values in that column: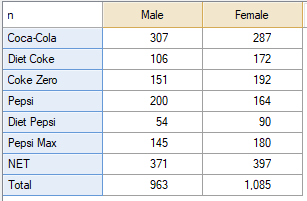 Method
1. Select your table.
2. In the toolbar go to Automate > Browse Online Library > Table Computations > Naive Total For Each Column.
3. Change the New row label as required.
4. Set the Position to place the new column on the top or bottom.
5. Press OK.
This rule then adds a new row at the bottom of the table which contains a total for each column. The total is calculated by adding up all of the statistic values in that column, and excludes any rows that are duplicates of other rows in the table (e.g. NETs).
Note, if you select Switch rows and columns on your table, the rule will no longer work due to the table dimensions changing. In this case, you will have to apply the Naive Total For Each Row rule instead.
Next
How to Rename the NET to Total
How To Test Against The NET/Total/Average
How to Add a Naive Total For Each Row in a Table