This article describes how to go from a crosstab table in Q...

...to an Editable PowerPoint Snake Chart: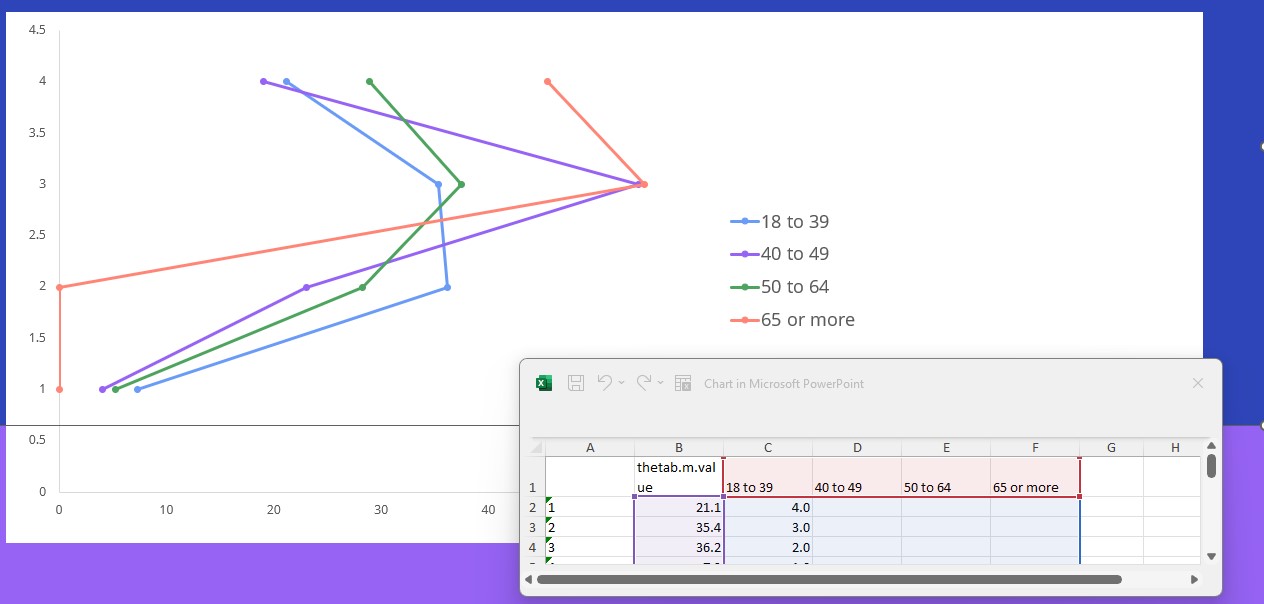 Note: you can create a Snake chart in Q (Show data as Table > Line and Dots Charts >  Snake Plot) and export it to PowerPoint as an image. PowerPoint doesn't support a Snake Chart type output. Nevertheless, this type of output is often used in reporting. Researchers have found a workaround involving restructuring the data and charting it as a Scatter plot. This article contains the steps to automate the process. 
Method
Create a crosstab selecting the question you wish to show as lines in Columns (age in the table above).
Go to Create > R Output.
Update and input the below code into Properties > R Code.
You must update the table name in row 2 of the code. You can find the table's name by right-clicking on the table in the Report tree and selecting Reference Name...


#specify table




thetab=table.Income.by.Age





#load reshape




library

(reshape2)





#remove nets




thetab=thetab[rownames(thetab) != 

"NET"

,colnames(thetab) != 

"NET"

 ]





#melt the table to long format 




thetab.m=melt(thetab)





#create a similar table for the axes




axis.m=thetab.m





#change the values to the sequential axis values based on how many columns were melted




axis.m[,

"value"

]=seq(NROW(axis.m)/length(unique(axis.m$Var2)),

1

,

-1

)





#merge the two long data together




merged=Cbind(thetab.m,axis.m)





#make the data wide keeping pcts long but axis values into individual columns




wide = dcast(merged, thetab.m.Var2 + thetab.m.Var1 + thetab.m.value ~ axis.m.Var2, value.var=

"axis.m.value"

)





#remove the unneeded column names 




wide.2 = wide[,!colnames(wide) %in% c(

"thetab.m.Var2"

)]




wide.2[,

-1

]

The above code will reformat the table into the correct format for the desired chart type. 




Select the output, and click on the PowerPoint icon in the toolbar. 
Set Format to To PowerPoint as Excel Chart.
Set Chart to XY Scatter Lines (or another Scatter type). 
Be sure that the Use legacy exporter (slower) box is unchecked.

Select OK. 
Select Create New Presentation > OK. 
Open the exported file in PowerPoint and re-format the chart. 
Next